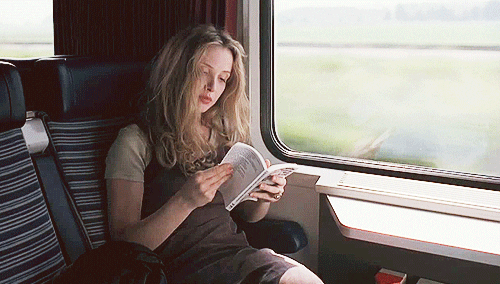 It's that time of the year again - year end lists! I'll be posting my films lists in January, but for now, here's my book list. This year I got to read an incredible selection of books varying genres. Not all of them were gems, but there were clear standouts to the roster. It was hard to narrow the selection to only the top 10, but these are the books that stood out and would recommend to read. These aren't ranked in order.
Honorable mentions: Re Jane by Patricia Park, Every Thing Every Thing by Nicola Yoon, PS I Still Love You by Jenny Han, Magnus Chase and the Gods of Asgard: The Sword of Summer by Rick Riordan, Why Not Me? by Mindy Kaling, How to be a Heroine: Or What I Learned from Reading Too Much by Samantha Ellis
The Solitude of Prime Numbers by Paolo Giordano

Related Reading: Eleanor Rigby by Douglas Coupland, Not Simple by Natsume Ono

This is probably the most depressing book I have read. It is about two people who have found each other in the worst of times. In a way, they were the only ones who understood each other. Both characters are so vile and unlikable, but Giordano's writing makes it such that you still root for them to be happy. It's a beautiful but devastating read.

Related reading: All the Bright Places by Jennifer Niven, Dear Zoe by Philip Beard

I'm definitely starting this list on a sad note, as this one deals with a loss of a loved one. This is told in the perspective of Lex, who lost her brother to suicide and is trying to cope and to come to terms with it. The author narrates the story in full circle, allowing the reader to understand where she is coming from.

Related reading: An Ember in the Ashes by Sabaa Tahir

I have never been more excited for a new book as I am with Red Queen. It's a thrilling read. It's about a girl who is a Red (commoner) but possesses powers, similar to the Silvers (upper class). When the Silvers find out, she was taken in by the royal family, given a new story and identity in hopes of preventing a rebellion. The world building is amazing, and this would make a good movie (if directed and casted perfectly).

Related Reading: This One Summer by Mariko Tamaki, Anya's Ghost by Vera Brasgol

I loved both the film and the graphic novel, both done by Marjane Satrapi. It tells her story - her background, her struggle to find her identity, and the difficulties she had to endure when her country was in a brink of regime change.

This is based on the disappearance and death of a journalist, George Polk. The book contains a lot of political strife, and transcends through past and present, relating the characters involved. I was surprised that I enjoyed reading this. It's short and precise, not to mention interesting. I usually don't read politically-fused novels, but this one was great.

If you've watched Master of None I suggest picking up Ansari's book about the woes of modern dating. He does his research well, scrutinizing angles of the dating world and its differences in other countries and age groups. He goes through the subject in an approachable manner, making this an entertaining and informative read.

The Martian is an excellent read. Mark Watney, one of the astronauts in a mission, finds himself stranded in Mars. The book chronicles his struggle for survival, as well as the mission to rescue him. It's really funny, and there were intense parts where he struggles to survive, bringing in a sense of adventure.

Nimona is a graphic novel about a shapeshifting girl who applies to become a sidekick to a villain. The novel divulges a lot of backstory between Nimona and her boss. The graphics are amazing, and the entire novel is action-packed that it feels like you're watching an animated film unfold on page.

This book was recommended to me due to my love of books and novel about books. This is about the life of a bookshop owner, whose perspective changes when a child was left in his store. There are other characters involved beyond the bookshop owner and the child, and it's not what I expected. The novel was quite heartwarming.

It's rare when protagonists are depicted as anything other than the usual YA tropes. In Made You Up, the protagonist deals with being a schizophrenic while trying to live her life as normal as possible. I don't read a lot of books like this so this is new to me, but it's good. Since it's written in the first person POV, it reads like how she thinks. There were some elements (plot-wise) that I didn't expect. It also reminded me of A Beautiful Mind, which is a great film to watch.



So those are my top 10 books read this year! Have you read any of them? What were your favorite books this year?
*The related readings mentioned are selections that I've read throughout the year.